About Us
the story of ekko
In 2008, on Thanksgiving weekend, nine brave souls came together to worship and break bread. We entered the rest found only in the presence and teachings of Jesus Christ. We did not know much about planting a church or how to make it grow. As a matter of fact, it did not even cross out minds to build something. As cliche as it sounds, we believe building a church was not our primary agenda. Instead we sought to become a church that had Jesus as its Head—as Savior and Lord.

We worshipped. We opened up. We confessed. We ate. We laughed. We cried. We listened—to God and to each other.
We are convinced that the church is the most effective organic environment for Jesus to work. We are convinced that the church is Jesus' first choice in delivering his Kingdom to the World. We believe in the church.

Ekko is about entering the Story of God—through Jesus Christ. In turn, our stories are reframed and restored. With the church at large, our local tribe seeks to write a collective story that is worth reading, worth inviting people intro, and worth giving to God. We invite you to go on this adventure with us. Welcome to Ekko.
Bryan H. Kim & Michelle Kim
Founding Pastors of Ekko Church
Ek • ko | Ekklesia + Koinonia
"The church... in communion by intimate & intentional participation."
Ekklesia means gathering of Christians and Koinonia means Christ centered fellowship. EKKO essentially means church. Each letter of our name also represents the four practices in our Ekkosystem.
our values
They devoted themselves to the apostles' teaching and fellowship, to the breaking of bread and the prayers. Awe came upon everyone, because many wonders and signs.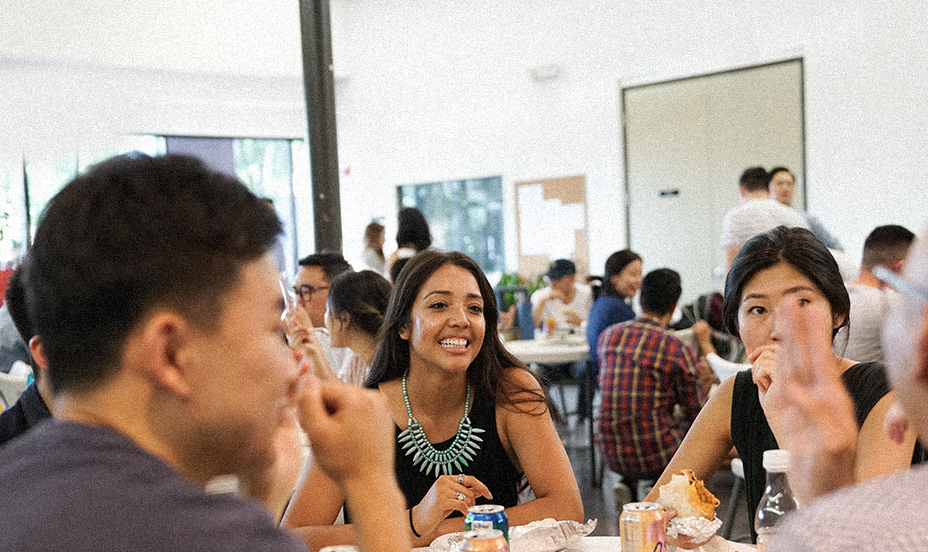 God knew what he was doing from the very beginning. He decided from the outset to shape the lives of those who love him along the same lines as the life of his Son. The Son stands first in the line of humanity he restored. We see the original and intended shape of our lives there in him.
Romans 8:29
Love the Lord your God with all your heart and with all your soul and with all your strength and with all your mind; and, love your neighbor as yourself.
Luke 10:27
Do nothing out of selfish ambition or vain conceit. Rather, in humility value others above yourselves, not looking to your own interests but each of you to the interests of the others. In your relationships with one another, have the same mindset as Christ Jesus:
Who, being in very nature God, did not consider equality with God something to be used to his own advantage; rather, he made himself nothing by taking the very nature of a servant, being made in human likeness. And being found in appearance as a man, he humbled himself by becoming obedient to death—even death on a cross!

Therefore God exalted him to the highest place and gave him the name that is above every name, that at the name of Jesus every knee should bow, in heaven and on earth and under the earth, and every tongue acknowledge that Jesus Christ is Lord, to the glory of God the Father.
Philippians 2:3-11
Anyone who loves me will obey my teaching. My Father will love them, and we will come to them and make our home with them.
John 14:23
God makes a home for the lonely...
Psalm 68:6
Religion that God our Father accepts as pure and faultless is this: to look after orphans and widows in their distress and to keep oneself form being polluted by the world.
James 1:27
Jesus said: "A man was going down from Jerusalem to Jericho, when he fell into the hands of robbers. They stripped him of his clothes, beat him and went away, leaving him half dead… But a Samaritan, as he traveled, came where the man was; and when he saw him, he took pity on him.

He went to him and bandaged his wounds, pouring on oil and wine. Then he put the man on his own donkey, took him to an inn and took care of him. The next day he took out two silver coins and gave them to the innkeeper. 'Look after him,' he said, 'when I return, I will reimburse you for any extra expense you may have.' "Which of these three do you think was a neighbor to the man who fell into the hands of robbers?" The expert in the law replied, "The one who had mercy on him." Jesus told him, "God and do likewise."
Luke 10:27
And I heard a loud voice form the throne saying, "Now the dwelling of God is with men, and he will live with them. They will be his people, and God himself will be with them and be their God. He will wipe every tear from their eyes. There will be no more death or mourning or crying or pain, for the old order of things has passed away." He who was seated on the throne said, "I am making everything new!"
Revelation 21:3-5